Testimonials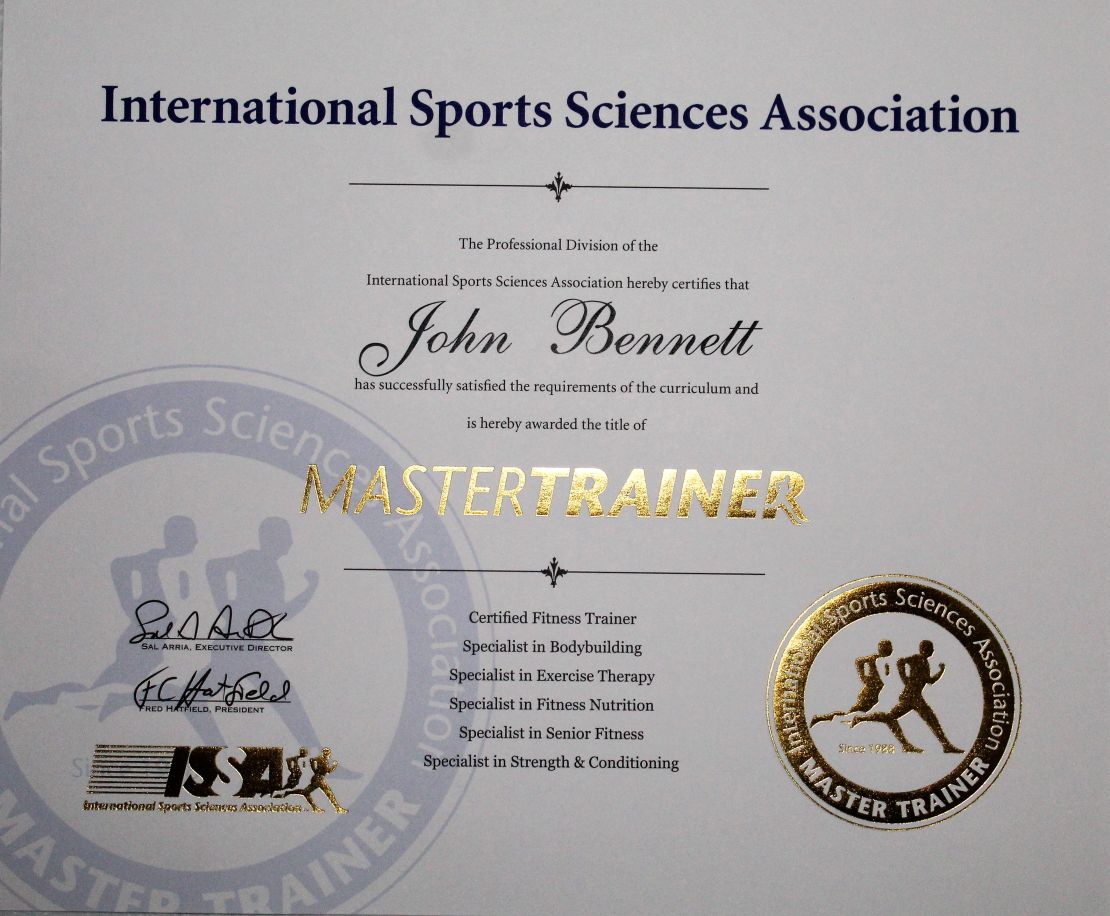 Over 40 Five Star Ratings On Google From Clients Ages 16 To 80+
ISSA Certified Master Trainer With Multiple Specialist Certifications
One of The Best in the Industry Will Come To You
John is a wonderful trainer. His extensive knowledge of weight training and exercise was very reassuring. I learned so much during the time I spent with John. He has a true passion for what he does and for great results.
I searched long and hard for a personal trainer with John's qualifications. Such people are few and far between, especially for someone like myself, who at the age of 72 knew that it was now or never to begin establishing a level of fitness that would help me offset to some degree the inevitable losses of strength, balance and general well being that are natural consequences of the aging process. It has been one of the best decisions I've ever made. Within the first few weeks of John's training regimen I realized substantial improvements in strength and fitness, even though I suffered a brief setback with major surgery at one point for a condition I had been dealing with for years. I recommend his services highly; you will not be disappointed. He is friendly, a joy to work with, and a professional in every sense of the word.
John's model for personal training has been perfect for me. The the in-home training is convenient, and very effective.
I am a senior care professional and I cannot recommend John enough. My client is 90 and has dementia and John has increased his strength and his desire to keep fighting. His exercises are specific and targeted to the needs of my client. I would recommend his services to any of my future clients, he knows what he is doing and he is the consummate professional.

John is an excellent trainer he has a lot of patience and he'll take you to the maximum
Although this snow bird has to head north in a couple weeks, John Bennett is a keeper, and when I return next winter, I'll be on his schedule. After only four sessions with John, I'm already showing signs of toning. He has a knack for being able to see what I can accomplish and designs the workout accordingly. Each workout is diverse so it keeps me interested and motivated and the hour passes quickly. The in-home work out is awesome because it's time saving and very affordable. John is prompt, professional and shares his vast knowledge of health and well being. During our initial consultation, I was given copies of John's certifications in Strength and Conditioning, Senior Fitness and Fitness Trainer along with print outs regarding the importance of strength training and health at any age. Being concerned about my efforts back home in Pittsburgh, John is developing a workout I can take home with me. I've worked with several other trainers and John is by far at the top of the line.
John came into our home and worked with three of our family members. Ages range from 14-45. He did a wonderful job with educating, explaining, and showing us how to properly and effectively take care of our bodies. John put together our fitness plans that are both challenging and comprehensive. Thanks so much!
John has been my personal trainer for two months, and I already have tangible results. He developed a program specific to my level, needs and goals. He sets realistic expectations and motivates you to do your best. John leads by example and provides anecdotal information to which you can relate, as he has faced some of the same struggles that so many of us do. I find that he really cares about his clients and does whatever he can to be flexible as issues arise, whether it's a request for a last minute schedule change or the need to refocus on the fly due to a sore knee.
While a great cheerleader, John isn't shy about delivering the tough messages when needed. He's dependable, accommodating, and very good at what he does. I couldn't have found a better fit.
I have worked with John now for 2.5 years and I am in the best shape of my life. He is a professional who has the experience, knowledge, and certification to provide you with a fitness and nutritional plan that works. If you give him the time he will get you to a fitness level that you have never achieved and a level at which you will feel better physically and mentally about yourself.
He tailors a plan to fit your needs and meet goals which are realistic. He's not easy but you don't want him to be easy, that's not what you are paying for. Use his expertise and knowledge to make a better life for yourself mentally and physically - that is priceless for you and your loved ones!
I have recently relocated to Florida and was not sure how to begin a fitness routine. I called John and have been training with him for over a month now. John is very personable, motivating and informative and has made a tremendous difference in how I feel about fitness. I would highly recommend him as a trainer to any level of fitness you are looking for.
John is truly a Fitness Specialist and has helped me tremendously. I love the home training & he is extremely professional. What a time saver & the home workouts are awesome. I would highly recommend his services.
Marion Calbough
John is a very professional and well informed trainer specializing
in free weight exercise and nutrition. He trains me at my home
and is always on time. He follows up on work out sessions with
emails on nutrition and technique. Very personable and up-beat guy!
It is never too late. At the age of 62 I am taking control of my health and well-being. With family history of Alzheimer's Disease I have decided to put into action a fitness program in conjunction with changing my eating habits. You can teach an old dog new tricks and John Bennett has done just that with his fitness plan for me. I chose John, Now Its Personal Training due to the fact that he is certified and has experience working with "seniors", keeping in mind their structural issues and not wanting them to injure themselves. He customized my fitness program to my abilities and back issues. I have been working out with John over the past few weeks and have already experienced a significant increase in the range of motion of my left hip area (total hip replacement November 2012). I have more energy and strength in my arms and legs. John also makes it fun yet still challenges you in a good humor. Don't put it off until tomorrow-make a plan with Now Its Personal Training today.
I am 19 years old & love working out with John. He has motivated me to get in shape & lose 20 pounds and put some serious muscle on. This guy really knows his stuff!!! If your young & looking for the best Trainer than look no further. John works me out at home which is awesome. I can't believe how much he challenges me.
I have been training with John now for about three months.
He is a great guy and a good motivator.
He makes training fun and I feel stronger and better.
This winter was our second series of training sessions with John. As previously posted, we are very pleased with John and his program and we strongly reiterate our comments from 2014.
My wife and I (ages 69 and 71) have been working with John Bennet for the last 3 weeks. Our permanent residence is in Virginia and we are staying in Floria for only a month or two. Our experience has been very positive. John has tailored exercises specifically for us, taking into account our age and physical condition. He is very thorough in explaining the purpose of the various exercises and is patient in helping us get the movements correctly. All and all, we would recommend him without reservation.

John Dial
My wife and I have been training with John for 6 weeks , three days a week and it has been worth it. We both have trained in the past and have had other trainers and John has not only helped us , he has taught us training and nutrition as well. Just after one session he realized our goals and what each of our capabilities were and adjusted our training accordingly. "The Personal Training " experience has given both of us more energy during our very busy schedules and am very grateful to John for helping us !
Another 6 weeks have passed and can say that I am much stronger and seeing the "Results" in the way my clothes are fitting. Will soon have to go purchase some new clothes ..........

Tom Lippart
First of all, I had never worked out in a gym and the equipment scared me. I wanted to exercise but I was afraid of hurting myself and not being able to do what I already did ( walk). I didn't know which areas I needed more work, I didn't know how strenuous one could be without hurting yourself.
John Bennett worked with both of us together. (husband and wife) We have now trained 7 weeks and are ever more enthused about our workout in the gym. We feel much more able to do our daily routines and especially our balance is significantly better.
Lastly my need for a trainer, or something, had been initiated by my being borderline able to lift suitcases and modest weight that I have always taken for granted. I am much stronger now.

John Bennett is the man. After spending 23 years of my life being weak, John helped me put on a lot of muscle quickly and got me motivated again. Going to a personal training session with him never seems like a chore and he manages to make something I hate doing -- exercising -- somehow enjoyable. He's very knowledgeable in his field and always coming up with new stuff to do in the gym. My mindset towards working out has changed drastically thanks to John and although I am the last person to ever write a review for anyone it would have been a crime to have kept him to myself.
I found John through Google and was so thrilled with his professionalism and training.
He contacted me immediately and showed up on time (early) for an appointment made 6 weeks prior to our arrival in Florida. I (63 years old) have trained before and found John's knowledge, maturity and training to be exactly what I was looking for. I thoroughly enjoyed our sessions and felt I got a very good cardio and strength work out with very little equipment and space. I was concerned because we were in a small condo, however our sessions were very well organized, compact and noise-less. My husband (71 years old), who has never trained before and was very reluctant to take part, stuck with the training and bragged to someone the other day "I feel stronger because of my training". John has a very pleasing personality and is very low key.
I hired John as my personal trainer recently and I am thrilled. John has given me the confidence to work out in the comfort of my own home as well as a unique program that is designed specifically for me. He is professional, extremely knowledgeable in diet, health and fitness, and I know the results will come. I would highly recommend his services to anyone, at any level of fitness.
John has developed a great exercise program for me. He comes to my home three days a week and spends one hour. The results have been amazing! I highly recommend him to anyone seeking a personal trainer. John is professional, makes it convenient for the client, and tailors the program to your fitness level.
I have known John for years. His dedication to his personal health and well-being is inspirational and gives him a distinctive perspective in his profession of personal training. He is professional, knowledgeable and understands the connection of body/mind/spirit on the path to fitness and good health. John has the ability to lead you on a path to a stronger and healthier body, which would change your life.
John has been my Fitness Trainer for the last year & a half. The knowledge he has about exercise is amazing. His sense of humor keeps the workouts interesting. Results are what matter to me and with Johns Motivation and help I've been able to firm up, lose weight & keep it off. I highly recommend John for any of your fitness needs.
John is the most professional and well educated trainers that I have come across, and I have met many. He is the most attentive trainer that I know and also leads by example. John truly practices what he preaches in his personal lifestyle, and that means so much for someone in the personal training field. Therefore, I trust in his advice and recommendations. My results have been fabulous while working with him and I look forward to looking and feeling even better!!
John Bennett is very personable and encouraging. I have been working with him for about 2 months and I think the results are very favorable. The most important thing for me is that I need motivation, and John provides it. The hardest part of working out is getting to the gym, but if you have appointments with John, you get to the gym or workout area without fail.
I am 24 years old and John Bennett, owner of " Now It's Personal Training" has helped me tremendously with understanding what exercises would benefit me the most to build muscle and gain strength. His extensive personal training knowledge and easy going and caring personalty help create a very productive personal training program. I would recommend "Now It's Personal Training" for any and all of your fitness needs!!!!
I have known John Bennett for several years and have had the pleasure of working with him in healthcare. I can say without hesitation that you are in capable hands if John is designing your training program. Aside from being a walking testimonial, that is, applying his strategies to his own health regimen, John is a visionary and brings insight and research to his discipline. He has the well being and safety of his clients in mind at all times and takes pride in their personal progress!
I am the Lifestyle assistant at Allegro Senior Living and started training with John a few months ago. I needed to get back in shape... just felt lousy and had no energy. Since then I have felt much better, look better and have more energy. Thanks John!
Well done! If your looking for an informative and athletic experience, this is the place. I am impressed with the knowledge and experience that is brought to the workout experience.
I'm 16 years old, and I've trained with John for about a month now making strong gains. He practices what he preaches and I've seen good results in a short period of time.
I get the BEST workout for the time and it is very convenient...
Terrific trainer, great results, best support!
Cindy Layton
I have been training with John for 2 years. As an RN I knew my fitness level now will play a big part in my future health. John and I developed a fitness and nutrition plan I could follow. My strength has improved and my weight stabilized. I feel good and look forward to every workout. And John comes to you. Thanks John!
Sandy Metzger
I have been working out with john for 1 ½ years and I can tell you it has been a wonderful experience. It is something I look forward to weekly. John is not only a fine person, or a man of integrity, but very professional in his approach, very knowledgeable. He is always on time, always prepared to take me to new levels of fitness and it is fun, lots off humor. I am stronger, fitter, stand taller and very pleased with the results. I am 81 years of age. I would highly recommend!!!! Five Stars.
Helen Jessup Murray - Love the training in my home. Great Trainer. Best Service. Very Reliable.
Stefano Maragioglio - John is an amazing instructor! He is sensitive to individual needs. He is prompt, professional, knowledgeable and courteous. I recommend him highly!