My Credentials
ISSA Certified Master Trainer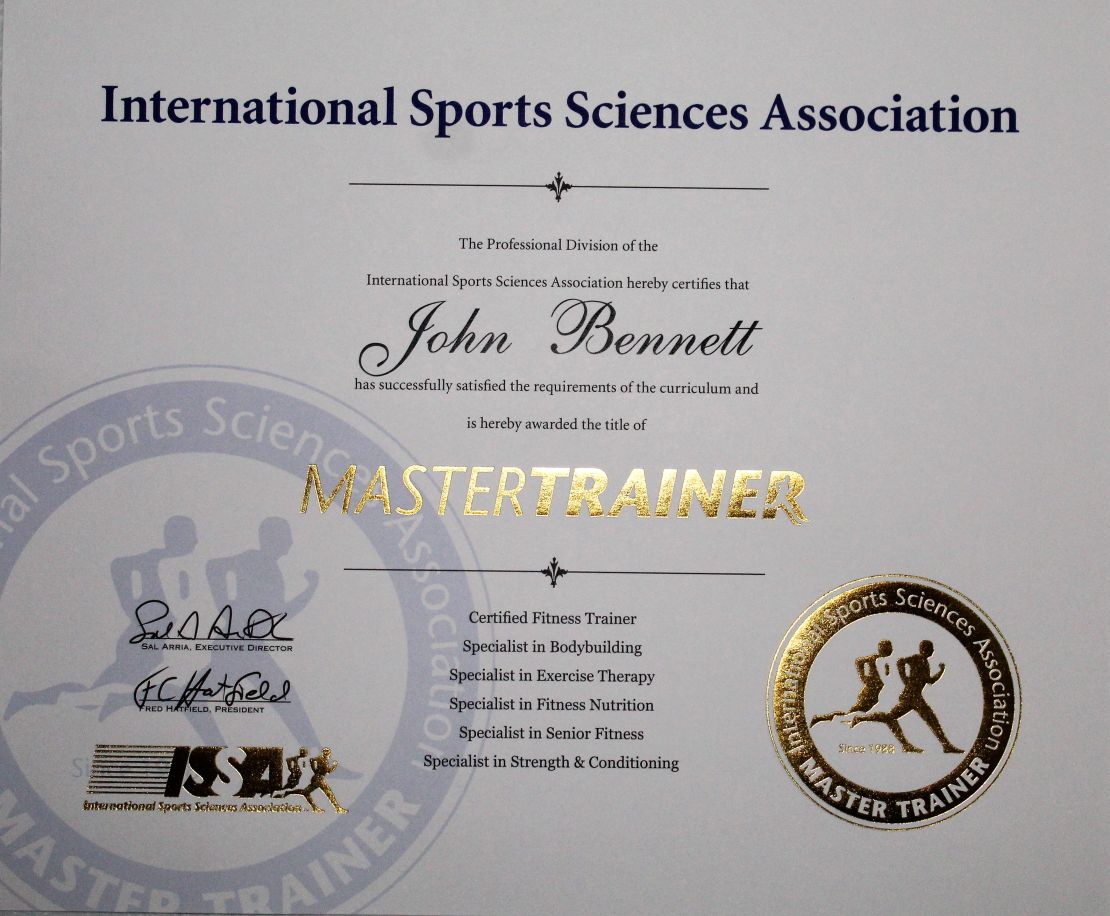 By definition, a Master Trainer is one who has achieved the highest possible level of attainment in the fitness industry.
With this title, the Master Fitness Trainer has practically set himself apart from all the other trainers by means of his exceptional level of educational development, professional expertise, distinguished standing and unsurpassed commitment to the fitness industry and to his/her clients.
In order to qualify as a Master Trainer, a fitness professional must meet a series of stringent pre-requisites. These are usually as follow:
at least 10000 contact hours clocked in practical coaching sessions,
a minimum of 10 years' experience in the fitness industry,
attainment of at least 5 or more advanced specialty credentials,
in a position of authority and influence (e.g. as a mentor, consultant, educator etc.) in the fitness industry
possess an unblemished and excellent track record
ISSA Certified Health Coach
Health Coaches address obstacles bigger than what can be solved in the gym. They provide the guidance needed to help clients with health conditions, and develop programs that empower these individuals — providing insight, accountability, and motivation to make lasting positive change. ISSA Certified Health Coaches offer an essential service to trainers, other health professionals, and clients.
ISSA Specialist in Senior Fitness
Modern science has given us the ability to slow and even reverse the negative effects of aging. And study after study has shown that seniors are not only capable of real exercise, but can vastly improve their health, strength, mobility, and independence through exercise. As a certified specialist in senior fitness, I can help you set realistic goals for your health, and then enjoy achieving and exceeding them.
ISSA Certified Fitness Trainer
It's no secret - fitness training has been proven to prevent disease, strengthen your health and improve your confidence and outlook on life. As a certified fitness trainer, I'm deeply trained in everything from muscle mechanics to flexibility and cardiovascular dynamics. So if you want to live a stronger and more confident life, I've got the training and the expertise to help you every step of the way.
ISSA Specialist in Strength & Conditioning
Until recently, most people believed that power athletes are born and not made. That has changed. Modern training techniques can make anybody faster, stronger, and more powerful. Athletes at all levels - from grade school to the NFL - can sharpen their competitive edge with the help of an expert trainer. As a certified specialist in this area, I can help you expand your body's capacity for challenging athletic feats while remaining strong and free from injury.
ISSA Specialist in Exercise Therapy
All too often, people suffering from debilitating medical conditions are inclined to think that fitness doesn't apply to them. In reality, fitness is even more vitally important to those who are recovering from medical care. As a certified specialist in exercise therapy, I can help you with a fitness program that works around your condition, giving you a healthier and brighter future to look forward to.
ISSA Specialist in Fitness Nutrition
Whether you want to gain muscle, lose fat, or live healthily, your limiting factor usually lies beyond exercise. Poor nutrition is what holds people back. As a certified specialist in this area, I can help you dispel the common myths about nutrition, and then work with you to design a "real world" nutrition plan that you can actually stick with and enjoy.
ISSA Certified Glute Specialist
The ISSA Certified Glute Specialist certification teaches trainers the science behind building better glutes and how to focus on these muscle groups to give clients the best results. It is the first and only certification of its kind. The course teaches trainers how to unlock the hips, create better programming, and deliver envious results. Trainers master the art of developing a superior strong posterior for their clients while identifying common hip and glute dysfunctions.
ISSA Bodybuilding Specialist
When most individuals think about the sport of bodybuilding, images of big, dumb guys grunting and throwing weight around are often conjured up. This could not be further from the truth! Serious bodybuilders are part athlete, part scientist, and part artist. As a specialist in this area, I can provide training, recovery, motivational, and nutritional strategies to help you achieve maximal muscle growth and optimize physical appearance.
ISSA Master Trainer
The ISSA Master Trainer credential is awarded only to distinguished ISSA Certified Trainers who have proven their competence in personal training and developed expertise in five additional areas of concentration through specialization certifications. This esteemed knowledge means personalized programs and targeted results for any type of client.