Rates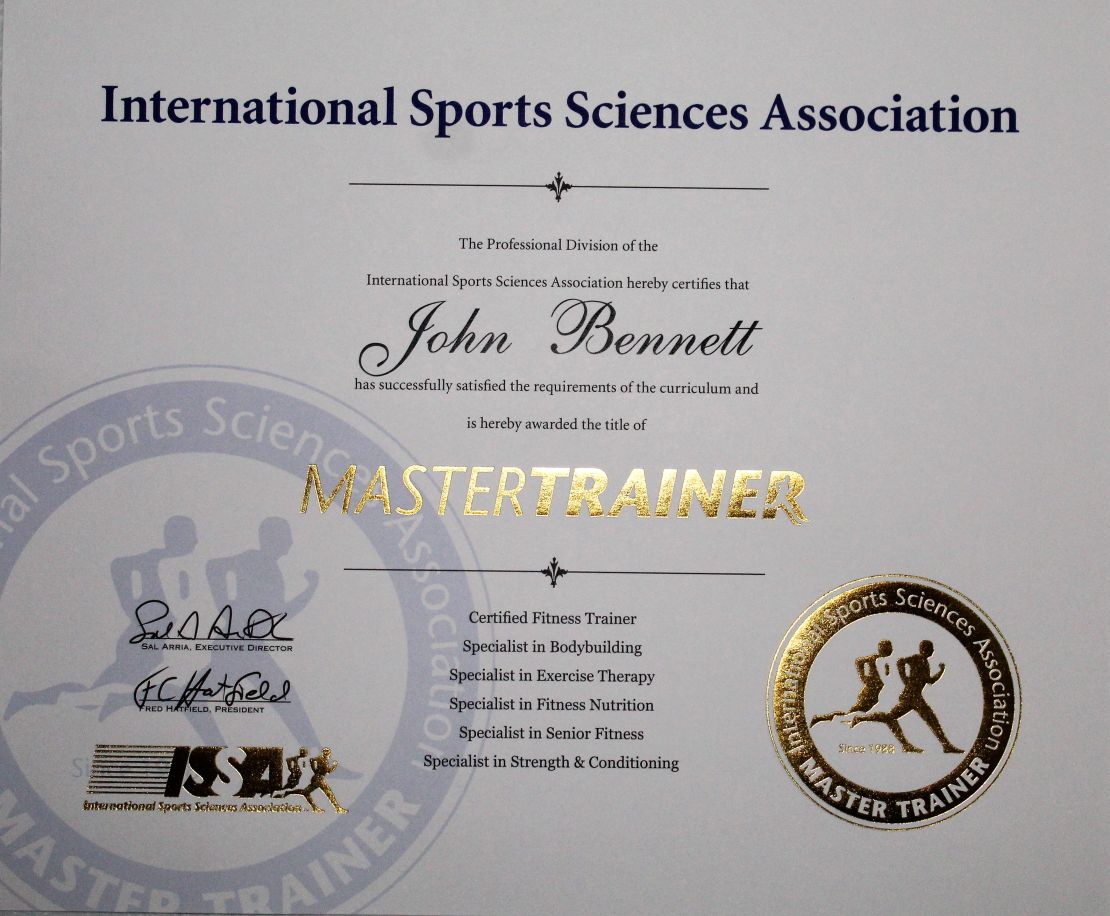 ISSA Certified Master Trainer With Multiple Specialist Certifications
One of The Best in the Industry Will Come To You
A great time saver. You do not have to travel or pay monthly membership dues. No equipment purchase is necessary.
Excellent professional workout programs are designed specifically to meet each individual's level of Fitness. Challenging exercise routines are given in the comfort of your home. Motivation & Goal setting are key to achieving success at any level. Master Trainer John Bennett will educate & train you in the performance of safe and appropriate exercise to effectively guide you to optimal health.
Initial Intake Meeting & Assessment with each new client is required. During this process the proper forms will be filled out, documentation will be presented, times and dates will be scheduled. There is a charge of $40.00 for this service.
As an experienced Certified Master Trainer I will help you find the motivation to exercise and make fitness a part of your life. Each session is 55 minutes long.
We require a 24 hour notice to cancel or reschedule a session; otherwise, you will be charged for the missed session.
Minimum of 2 workouts a week to maintain consistency and reach set goals.
Master Trainer Personal Training Price Schedule
One Session - $100.00 Plus $40.00 Intake
12 Sessions – $900.00 Plus $40.00 Intake
24 Sessions – $1680.00 Plus $40.00 Intake
50 Sessions – $3250.00 Plus $40.00 Intake
100 Sessions - $6000.00 Plus $40.00 Intake
We accept checks made out to Now it's Personal Training or Cash as methods of payment. We do not accept credit cards. We do not give refunds. You are making a commitment to yourself and me.
All Packages Have Expiration Dates. They are to be Used Once Purchased in a Reasonable Time Listed Below. Extra time is allowed for unforeseen circumstances.
12 Sessions – 2 Months - 8 Weeks
24 Sessions – 4 Months - 16 Weeks
50 Sessions – 8 Months - 32 Weeks
100 Sessions - 16 Months - 64 Weeks
The secret of getting ahead is getting started. -Mark Twain
Call John Now
Save
Save
Save
Save